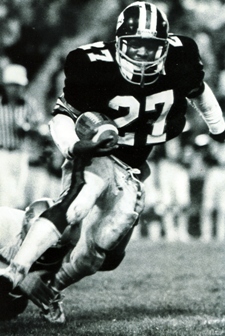 Aliquippa has a virtual Who's Who List when to comes to great athletes. Certainly included in that group is Rapheal "Pudgy" Abercrombie, one of the most charismatic performers in county football history. He began making his mark as a sophomore on the gridiron. At the beginning of the 1982 season. he was the backup running back and the starting nose tackle.

Short in stature but powerfully built, Pudgy proved to be a nemesis to opposing lines and running backs. When an injury catapulted him into the starting lineup on offense, he responded in grand style in the biggest games. He had a nifty 60 yard touchdown run in the Seton-LaSalle playoff game, and followed up with a two touchdown performance against Churchill in the WPIAL semifinals. Combined, he ran for 299 yards in those games. As a junior, Pudgy was a star from day one. His highlight came in a 299 yard rushing effort against rival Ambridge in a 34-0 victory. He amassed 1647 yards rushing as the Quips again reached the championship game.

Pudgy's senior year was like a fairy tale. Concentrating solely on offense, he exploded for 2295 rushing yards, a 6.4 yard average per attempt, and scored 24 touchdowns as the Quips won the WPIAL title. That total yardage set a county record for one year. His 13 yard run in the final quarter was the winning score in the 20-15 win over Mount Pleasant for the championship. As a senior, Pudgy also starred on the track team, being a member of the PIAA silver winning 4x100 relay team. His school records set included: all time leading rusher in both season and career; career touchdowns with 54; and the single game rushing total, his junior season performance against Ambridge. His total of 4603 rushing yards in his career was the seventh best in Pennsylvania history, despite having played only 2½ seasons as a running back. Pudgy was named All WPIAL and Most Valuable Player in Class AAA in the district, as well as All State. He was also named an All American by Street & Smith's magazine.

Pudgy signed with the University of Minnesota and lettered as a freshman. But when head coach Lou Holtz left the program, so did Pudgy. He transferred to Indiana University of Pennsylvania where he started IUP's playoff team of 1987.

Pudgy and his wife Lisa are the parents of three girls: Shawawn, Taylor, and Alexys. They reside in Aliquippa.