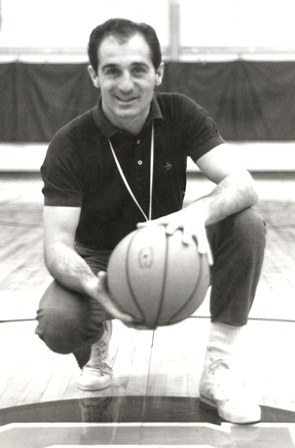 Center High School may no longer exist, but the legacy of Sarge Alberts will last forever.
That's because Alberts is so respected, that after the merger of Center and Monaca to form Central Valley High School, the athletic/track stadium in the newly-formed district remained known as "Sarge Alberts Stadium."
Such is the case when one devotes his professional life to athletics and education. Sarge was, and still is, Mr. Center Township. When Center High School opened its doors in 1962, Alberts was the school's first athletic director, golf coach, and basketball coach. He was also responsible for giving the new district's athletic teams a name, "the Trojans", after his beloved USC Trojans.
Sarge was impressive in his stint as basketball coach at Center, compiling 166 victories in 16 seasons at the helm of the Trojans. He won three consecutive sections championships at the school from 1967-1969. Center's 48-47 victory over Braddock in 1969, then the number one ranked team in the state, was his crowning achievement. Center's victory over Braddock in front of 10,000 fans at Pittsburgh's Civic Arena -- a win that sent the Trojans into the WPIAL championship game -- is still regarded as one of the greatest upsets in WPIAL history.
Besides basketball, Sarge coached the golf team at center for 31 seasons. His record was 206-110 with eight section championships. Sarge was also a long-time member of the WPIAL (District 7) golf committee.
As an athletic director, Sarge was tremendously respected throughout the WPIAL and the state. He was named Region IV Athletic Director of the Year in 1993. Following his retirement, he was feted at a testimonial banquet by over 300 people. That night, the football stadium was named in his honor.
Sarge was also active throughout the community and the Beaver Valley. He directed the recreational program in Center Township for two decades, organized innumerable golf outings, and served on the executive board of the Beaver County Sports Hall of Fame for more than 25 years.
Sarge is married to Theresa and has two daughters, Carol and Christine, and two grandchildren, Nicole and Matt.