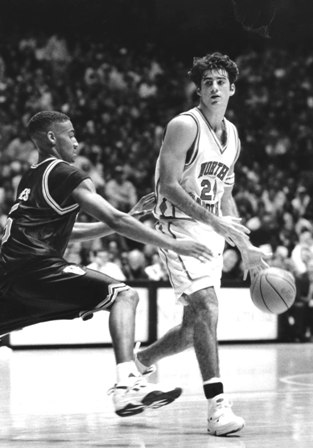 Blackhawk High School has produced numerous NCAA Division I basketball players, but there is little doubt that greatest Cougar of them all is Dante Calabria.
Dante graduated from Blackhawk in 1992 where he played basketball and baseball for the Cougars. He was a standout on the basketball court, leading Blackhawk to three straight WPIAL Championships and a state title. He was named Pennsylvania State Player of the Year in 1992, first team all state in 1991, the Fabulous 5 Player of the Year, Section 7 player of the year, and team MVP for three seasons. Upon graduation, Dante became the leading scorer in the WPIAL, amassing 2,252 points in only three years of varsity competition. He was selected to play in the prestigious Dapper Dan Roundball Classic. Dante matriculated to the University of North Carolina in 1992, immediately winning the NCAA Championship as a freshman.

He also won ACC Championships, ACC Tournament Championships, and made a return trip to the 1995 Final Four. He enjoyed a wonderful career at UNC, setting records for three-pointers made in a game (8) and 3-point percentage for a season, finishing the 1995 season 4th in the nation at 49.6%. He is fifth all-time at UNC in three-point percentage at .412 and seventh in UNC history with 193 three-pointers. UNC went 111-28 in his four years, including a 47-17 mark in ACC play and 12-3 in the NCAA Tournament. Dante played in 135 games from 1992-1996. He is also one of only a few Tar Heels to amass over 1,000 career points, 400 rebounds, 300 assists, and 100 steals.


Dante left UNC in 1996, signing a professional contract in Italy. His European career lasted 15 years, making stops in Italy, France, Greece, and Spain and playing for teams in Livorno, Dijon, Pau Orthez, Thessaloniki, Trieste, Valencia, Treviso, Cantuí, Milano, Bologna, and Napoli. An Italian citizen, Dante had the honor of playing for the Italian National Team in World and European competition. He played many seasons in the prestigious Euroleague, which allowed him to travel throughout Europe. He was named to numerous All Star teams and playoff appearances. He ended his career in 2011, losing game 5 in the best-of-5 playoff series.
Currently, Dante is the Director of Basketball Operations for the University of North Carolina Wilmington Menís Basketball team. He resides in Wilmington, NC, with his family, and is the son of fellow Hall of Famer Chad Calabria.