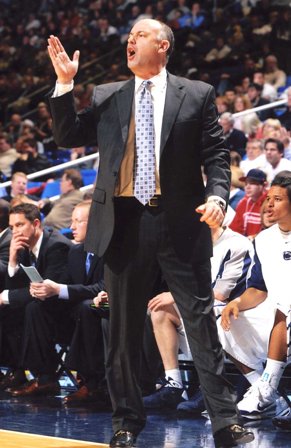 Being raised in Beaver County, Ed DeChellis is well acquainted with hard work, having spent time at the blue-collar jobs in the mills. He also cherishes the close-knit family bonds that paint our region of western Pennsylvania. A cancer survivor from a family that's seen more than its share of the disease, he also knows what it takes to overcome challenges and possesses the steeled determination of someone who has stared adversity in the eye and didn't blink.
Through that background, DeChellis has established a legacy of achievement on and off the basketball court in his first 13 seasons as a collegiate head coach. A long-time assistant coach at Penn State where he helped lead the Nittany Lions to four-straight post-season appearances and six overall from 1986-96. DeChellis began his head coaching career at East Tennessee State where he led a once down trodden program to success. In seven seasons, he guided ETSU to three conference divisional titles and the school's first NCAA Tournament appearance in a decade, where his team – a 15th seed – took powerful Wake Forest to overtime before falling.
Returning to his alma mater in 2003, DeChellis was named the 11th head coach in Penn State history and set to rebuilding a program that had won just seven games in each of the previous two seasons. He did so by recruiting the first three Nittany Lion players named to the All-Big Ten freshman team and instilling his mark by changing the culture of the program and in massive facility upgrades. Through his first six seasons, he led Penn State to two post-season tournament appearances and in 2008-09 guided the Lions to the most wins in school history – 27 – and the NIT Championship. Penn State's season included four victories over Top 25 ranked teams and their second-most Big Ten wins ever with a 10-8 conference mark. His efforts were recognized by being named the Big Ten Coach of the Year.
DeChellis has also dedicated his energies off the court, leading Penn State's Coaches vs. Cancer organization over the $1 million total in funds raised and was named the 2006 Coaches vs. Cancer Man-of-the-Year. With events such as a Celebrity Golf Tournament and Reverse Car Auction, Penn State's Coaches-vs-Cancer annually ranks among the top 10 programs in the nation. DeChellis, whose father, Richard, died of cancer when he was in graduate school, and mother, Audrey, was taken by the disease on Christmas day 2007, has been a huge advocate and fundraiser for the program, which emphasizes immediate grass roots assistance to those stricken by cancer in the Centre Region. The return of the DeChellis family to Happy Valley was not just a homecoming for Ed, but for his wife, Kim, who is a native of Butler, Pa. family has three daughters: Casey, Erin, and Lauren.