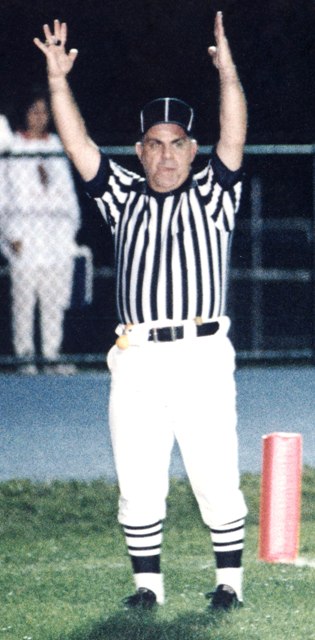 The Beaver County Sports Hall of Fame Class of 2012 has athletes, coaches, journalists, and a sports agent among the inductees. Ron "Lefty" Dionisio was nominated not because he was in any of these categories. Lefty is an official. He spent over 45 years of his life making sure that the players played fair, the coaches followed the rules, and the writers, agents, and fans had someone to criticize for the losses of their favorite team.


This 1953 graduate of Milton Hershey High School lettered in football, wrestling, and baseball in high school and played sandlot and semi-pro football before entering the United States Army in 1957. He played football and wrestled while serving his country and finished second in the all-army wrestling tournament in 1958.
Upon returning to Beaver County, Left married Frances Zoiti in June of 1959. The Dionisios have three children: daughters Julie and Gina and son Tom.
Lefty enjoyed attending high school football games, so his wife suggested that if he was going to the games, he might as well make some money: she suggested he become a football official. In 1967, he began officiating on the midget, junior high, and junior varsity level. He did his first varsity game in 1970 between Beaver Falls and North Allegheny. Since that time he has refereed on the high school and small college level in Pennsylvania and Ohio. Beginning in 1972, Lefty has worked many WPIAL playoff games, working every level of championship games at Three Rivers Stadium. He also worked PIAA semi-final games.
Although retired from active officiating, Lefty stays involved as a crew evaluator for Quad A football and is a clock operator for the Presidents Athletic Conference in college football.
Over 20 years ago our inductee decided he needed to do something with his time in the summer and started umpiring softball. He is still active with the Blackhawk ASA Softball Umpires Association and is a chapter officer.
As a sports official, integrity is of the utmost importance and our inductee is at the top of his class in that category. Lefty is well-known in the western part of Pennsylvania, and he and part of his family were in the Strip District in Pittsburgh. His daughter said to him," Is there anybody here that you do not know?" At that moment, a Port Authority bus stopped and the driver asked how he was doing to the amazement of his family. Integrity and respect are the two most important qualities of a sports official, and our inductee certainly has attained that stature during his many years as one of the top football officials in Western Pennsylvania.