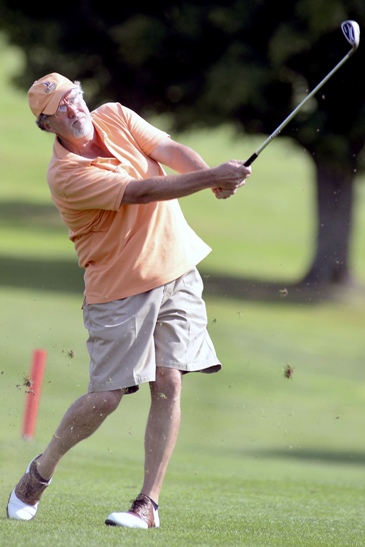 Sherman Hostetter Jr. first displayed his interest in golf at the early age of 11, when he joined the Junior Golf League at Blackhawk Golf Course in Beaver Falls. He immediately showed natural ability by capturing first place that year and every year consecutively through age 18.
Sherman went on to captain the Northwestern High School golf team and win Midwestern Athletic Conference individual and team honors in both 1971 and 1972. From 1973 through 1977, Sherman attended the Pennsylvania State University on a full golf scholarship. Sherman achieved several top honors throughout his college career, including Penn State Nittany Lion Invitational Individual Honors in 1975 and 1977. He achieved NCAA All-American status in 1975. Sherman's senior year at Penn State was exceptionally notable, as he qualified individually for the NCAA Tournament and the U.S. Amateur, and won the West Penn Amateur at Nemacolin Country Club. Before turning to professional golf, he won the esteemed Kenridge Invitational in Virginia and placed 19th in the Sunnehanna Amateur.
Sherman had a brief but memorable stint playing professional golf from 1978 through 1983 before his father convinced him that it was time to return home and get a "real" job in the family auction business.
In 1986, Hostetter reclaimed his amateur status. He has celebrated various accomplishments over the years that include sinking five holes-in-one and owning four course records at golf venues across the area. In 1995, Sherman was victorious at the West Penn Tournament of Club Champions and, in 1996, he qualified for match play in the U.S. Mid-Amateur. He has added to his prestigious portfolio winning the Beaver County Senior Amateur Championship five times: 2007, 2008, 2009, 2011, and 2015.
Sherman has built and experienced an exceptional and exciting golf history and credits his successes in golf and in business to the unconditional love and support of his parents and the gracious blessings of the Lord. Currently, Sherman resides in Beaver with his wife Kimberly and continues to enjoy recreational and competitive golf while also instructing others on the finer points of the game. Sherman has preserved his family's tradition by leading the auction and real estate business founded in 1955 by his parents, Sherman and Doris Hostetter, in which the third generation of his family is proudly involved today.