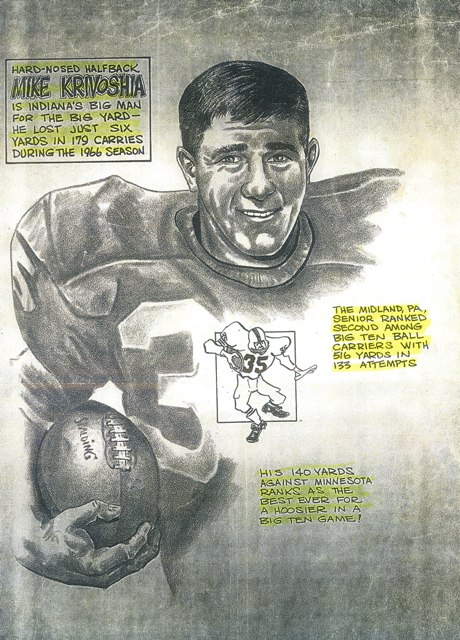 Midland High School was traditionally known for its basketball prowess, but Mike Krivoshia made certain that no one forgot the Leopards were no slouches on the football field as well.


A bruising 217-pound fullback, Krivoshia was a high school honorable mention All-American following his senior season at Midland in 1963. He was also named to the all-state team and selected to play for Pennsylvania in the prestigious Big 33 Game. He was named All-WPIAL after both his junior and senior seasons and was Midlandís Most Valuable Player both years. He holds records at Midland for most touchdowns in a game (7) and made an incredible 32 tackles in one game in his senior season.
Krivoshia was also a track standout, setting the schoolís shot put record, and being one of the Leopardís top sprinters. As in football, Krivoshia won track MVP honors in both his junior and senior years.
After high school Krivoshia had offers from some of the biggest names in college football -- among them Ohio State, Michigan, and Penn State -- and ultimately chose to play football at Indiana University, where he continued to make a name for himself. In his junior season, Krivoshia led the Hoosiers in rushing with 675 yards overall, and his 516 yards in Big 10 games was second in the conference. He also had a 140-yard rushing performance against Minnesota that at the time was the best ever for an Indiana running back in a Big 10 contest. He was named second team All-Big 10 as a junior and went on to play in the Rose Bowl following his season.
Krivoshia went on to play two seasons with the Houston Oilers and one season of semi-pro football with the Indianapolis Capitols.
Krivoshia now lives in Jacksonville, Florida, with his wife, Margaret, and they are the proud parents of four children, sons Darrin and Kyle Krivoshia and step-sons Bobby and Michael Panetta.