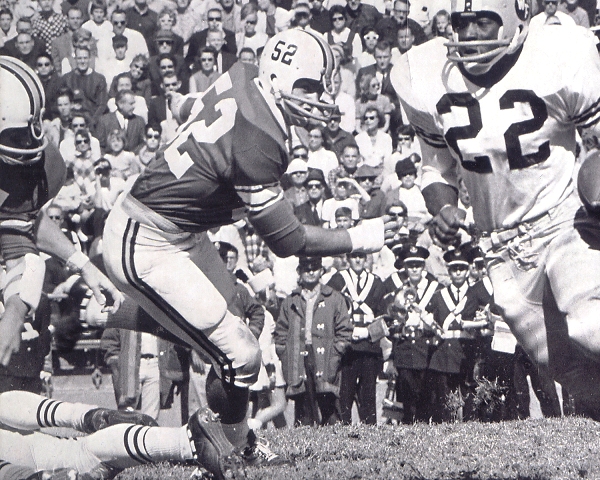 Although Monaca High School no longer exists, if one were to wake up the echoes of some of the greatest athletes in its illustrious history, the exploits of three-sport standout Jim "Buddha" Lavrusky would undoubtedly come to the forefront.
A center and linebacker on the football team for the Indians, Jim was a stalwart on some of the great Monaca teams of the early-1960s. Jim, the team captain, spearheaded one of the greatest victories in Monaca history when the Indians knocked off unbeaten Beaver in 1963, stopping the Bobcatsí 25-game winning streak, which at the time was the longest in Beaver County history. That victory gave Monaca the Midwestern Athletic Conference championship. Jim was named All-Conference, All-WPIAL and was selected to the Coach and Athlete Magazine All-American team. But Jimís athletic exploits werenít limited to the football field, as he earned a total of 10 varsity letters, also excelling in basketball and baseball. He was named All-Section in basketball as a senior and earned four letters in baseball. In fact, it is believed that Jim is the first athlete in Monaca history to ever receive a varsity letter as a freshman.
But football was Jimís ticket to college, as he was awarded a scholarship to attend the University of Maryland, where he started at linebacker for three seasons. He was named Best Defensive Lineman and Unsung Athlete of the Year in 1966, and Washington D.C.ís Outstanding College Athlete of the Year in 1967. That year he was also the winner of the Anthony Nardo Memorial Trophy as Lineman of the Year at Maryland. In his most memorable game, Jim was named Defensive Player of the Game after making an incredible 27 tackles (18 solo, nine assists) in a nationally televised game against Larry Csonka and Syracuse. He graduated with records for most tackles in a season (70) and most interceptions by a linebacker in a season (3). Following graduation, he spent the 1968 season as a graduate assistant with the Terrapins.
Deemed too small to play professional football, Jim nonetheless played semi-pro ball for three seasons with the Las Vegas Cowboys and the Orlando Panthers before a knee injury curtailed his career. Jim then turned to scholastic coaching and became the offensive line coach and linebackers coach for St. Johnís College High School in Maryland from 1971-1979. During his tenure, Jim was responsible for installing the Delaware-T offense, resulting in a remarkable nine-year run by the team. St. Johnís won four Catholic League Championships, including three in a row from 1974-1976. Jim also had coaching stints as an assistant at Walter Johnson High School and DuVal High School.
Still living in Maryland, Jim has three children, Jennifer, Melissa and Jeff.