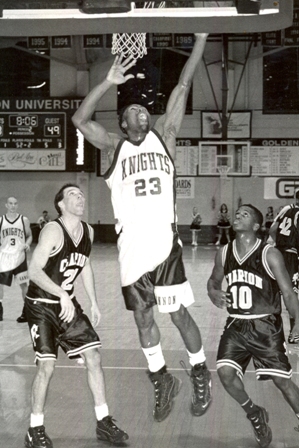 Whenever Troy Nesmith stepped onto the basketball court, success followed.
His career in basketball started as a freshman at Greater Works Academy in Monroeville, where he was a starter averaging 20 points per game. That success continued after his transfer to perennial power Beaver Falls, where he was All-Section in his junior and senior seasons. After averaging 15.2 points and six assists as a junior, he culminated his high school career by earning Section Most Valuable Player honors when he averaged 22 points, 12 rebounds, and six assists. He was chosen to play in the prestigious RoundBall Classic in Pittsburgh. Troy then moved on to Geneva College, becoming the first freshman All-American in the nine years at the NAIA level. He was Third Team All-American as a freshman and then First Team after his sophomore year. The following year Troy transferred to Gannon University, where he again left his mark, as he left Gannon a two-time All-American. Do the math - thatís a four-time college All-American.
After graduating from Gannon as an Academic and Athletic All-American, Troy was named the NCAA Division II Player of the Year and a top NBA prospect. He played in the NABC All-Star game with Division I players, even he played at the Division II level. He won the 3-point shoot-out with another Division II player who participated with him. Graduating the year of the NBA lockout in 1998 made it tough to make a CBA team with all the guys on the bench from the NBA. He returned to Gannon finished his student teaching and continued pursuing his dream to play professional basketball. Troy tried out for the Minot Bearcats in North Dakota, played a couple months for the Youngstown Hawks (International Basketball Association).
Troy then left the country to pursue a professional career in basketball, determined to find a team and refusing to come home until he did. He found a roster spot in Saint Vallier, (Lyon) France, where he played the two seasons, winning a championship in his second season, and then spent a season with Le Mee-Sur-Seine in Paris.
Moving on to Blois Basket 41 for two seasons, and winning another championship, Troy felt that is where he really began to perform and play at higher/professional level. Many different teams at every level began to finally take notice. He then found a team at a higher level in the North of France, Lille. After a brief stay (one season) in Lille, he took his talents to Kaysersberg. After having a stellar season in Kaysersberg, the next stop was Mulhouse Basket 30 miles from the Kaysersberg. Mulhouse was like a second home, not because of another championship but because of the contacts and relationships that were built. Finally, he returned to Kaysersberg for what appears to be his final season of 10 years of professional basketball.
Now living back home in Beaver County, Troy is a general agent for American Income Life Insurance in Wexford, PA. He also has his own fitness business training and coaching individuals of all ages and talents to reach certain levels of success, mentally and physically.