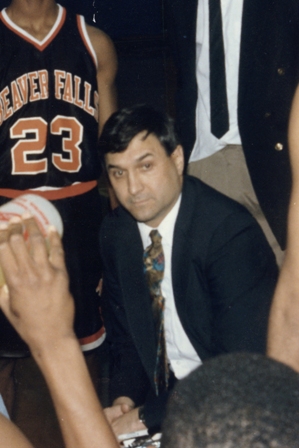 The legacy of Dave Podbielski left a lasting impact on many people in the Beaver Valley and now his reach has extended into a new generation.
Podbielski was a long-time Beaver Falls and New Brighton basketball coach who left his mark as both a coach and player prior to his untimely death in 2002 at the age of 48. Dave Podbielski won PIAA championships as both a player and coach at Beaver Falls and also captured WPIAL titles as a coach of the Tigers and at New Brighton.
Podbielski was a guard on Beaver Falls' 1970 team that won WPIAL and PIAA basketball titles, a team that featured standout player Oscar Jackson. Following his graduation from Penn State in 1976, Podbielski stepped into coaching when he became the head coach at New Brighton and led the Lions to the WPIAL championship with a win over Clairton in 1980. In that game, future Beaver County Sports Hall of Famer Hal Bentley tied a WPIAL championship record by scoring 40 points.
But it was at his alma mater, Beaver Falls, where Podbielski enjoyed some of his greatest success. He became Beaver Fallsí head coach in 1987, taking over for the legendary Fran Chan, and in 1994 reached the pinnacle, guiding the Tigers to both the WPIAL and PIAA titles.
The WPIAL championship game that year, held at Pittís Fitzgerald Field House, is considered one of the greatest in District 7 history. Beaver Falls beat rival Blackhawk when the Tigers' Troy Sheets made a 3-pointer at the buzzer at the end of the second overtime for a thrilling 63-60 win.
Beaver Falls went on to win the PIAA title that year with a win over Academy Park.
In 1996 Podbielski took the head coaching job at Class AAAA Seneca Valley, where he coached his son, Andy, and led the Raiders into the WPIAL playoffs in his first season. Podbielski had 250 career victories at the time of his passing.
Podbielski was also active away from basketball. In 1994 he was named The Beaver County Deanery Man of the Year for his catholic service. He also volunteered his time coaching youth baseball.
Dave Podbielskiís legacy is enduring as Andy Podbielski followed his fatherís footsteps into coaching and is now the head coach at Beaver. In just three seasons he has turned Beaver from perennial doormat to Class AAA title contender.
Along with Andy, Dave and his wife, Karen, had sons Stephen and Joshua. Andy Podbielski will accept the Beaver County Sports Hall of Fame induction on behalf of his father.