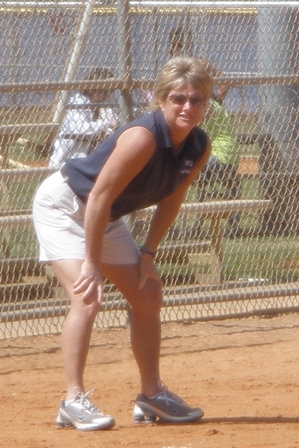 The longest tenured and winningest softball coach in Westminster College history, Jan Reddinger won her 400th career game with the Titans in 2011. Having won at least 17 games in all 16 years with the team, Reddingerís teams are contenders every year. Westminster has averaged 23 wins per season with Reddinger as coach, including seven postseason appearances and conference championships in 1997, 1998 and 2005.
Entering her 17th season with Westminster in 2013, Reddinger boasts a 16-year record of 368-266-2 (.580) with the Titans and a 21-year career mark of 424-327-2 (.564). In 2011, she became the 51st softball coach in NCAA Division III history to reach 400 career wins.
Reddinger led Westminster to its first Presidentsí Athletic Conference (PAC) title in 2005, while also piloting the team to postseason appearances in the Eastern College Athletic Conference (ECAC) Division III South Championships in 2005 and 2007. Reddinger was also named PAC Coach of the Year in 2007.
In her first and second seasons at the helm of Westminster softball in 1997 and 1998, Reddinger led the Titans to their fifth and sixth straight conference/district crowns, including a trip to the NAIA Northeast Regional Tournament in 1998. Reddingerís 2001 team also qualified for the ECAC Division III playoffs after setting team records for wins (32) and consecutive wins (17) in a season with a 32-13 record.
In addition to her softball duties, Reddinger serves as a physical education instructor at Westminster. She previously served as an assistant coach of the Titan womenís soccer program and the head womenís basketball coach for four years.
Prior to coming to Westminster, Reddinger served as head softball coach and assistant basketball coach at La Roche College. While at LaRoche, she made a bit of history in 1993, as the softball team won the first conference championship for any sport in school history.
Before becoming a successful coach, Reddinger was a standout athlete on both the high school and college levels. At Hopewell High School, Reddinger was a four-year starter in both basketball and softball, being named all-Section in both sports as a junior and senior. She was then a standout in both sports at Penn State Beaver before finishing her career at West Liberty.
Reddinger has a bachelor of arts degree in physical/health education from West Liberty State College. She earned a masterís degree in physical education/sports administration from Eastern Illinois University.