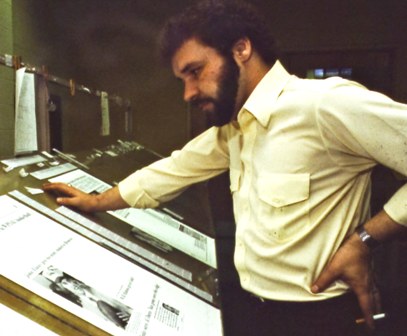 What do sports mean to the people of Beaver County? It's hard to describe, unless you're from the area. There is passion, pride, and enthusiasm that simply isn't seen in other parts of the country. Ed Rose has seen, heard, written, felt and described that passion throughout his career as an award-winning writer and editor via his words and the words of his talented staff members for over four decades.


His roots are in Beaver County, and so is his heart.
Rose grew up in Aliquippa, and moved to Beaver in 1962, where he continues to live. He followed in his father's footsteps as a journalist, working at the Beaver County Times. He served as The Times' sports editor for 28 years and on the sports staff for nearly 41 years. He is a 1966 Beaver High School graduate who attended Point Park University.
He joined The Times in 1971 as a newsroom intern two weeks after leaving the Army. At the same time, he began writing a weekly auto racing column covering the sport in the tri-state area. He was named Pittsburgh Racing Association Sportswriter of the Year in 1971 and also worked as public relations director at North Hills Raceway.

Ed served as scholastic sports editor of The Times, took over as the Pittsburgh Pirates beat writer in 1972, and was named Associate Sports Editor in 1973 and Sports Editor in 1983. He covered high school, college, and pro sports, in addition to coordinating the planning and designing of the daily section.


As a writer, he won state and national awards. His writing coverage included all area high schools, the Pittsburgh Pirates, the Pittsburgh Steelers, the University of Pittsburgh, and local colleges. He covered the World Series, the Super Bowl, and countless WPIAL and PIAA championship events.
In his tenure as sports editor, The Times' sports section was honored with national awards for its innovative coverage on dozens of occasions. In 2008, The Times was honored as a national Triple Crown winner by the Associated Press Sports Editors, finishing in the Top 10 nationwide in daily, Sunday, and Special Section categories in its circulation group, one of only eight papers nationwide in any circulation category to receive that honor.
Beyond the games, Ed promoted The Times'-sponsored countywide MAC track meet; the annual Times/Black Hawk Seniors Golf Championship, the largest amateur golf event in the county; the seasonal Academic All-Star teams honoring athletes for their classroom work; the Joe Tronzo awards, which recognize the most inspiration athletes on high school teams; and a fundraiser for the family of Olympic sprinter Lauryn Williams of Rochester, which raised nearly $21,000 from readers for Williams' father, mother, and relatives to attend the 2004 Olympic Games in Athens, Greece.
Ed retired in September of 2011. He and his wife, Nadine, reside in Beaver. The couple has three children: Marc, a teacher/coach at Western Beaver High School; Chris, a corporate bank vice president in New York, NY; and daughter, Kelly, who lives in Rochester.