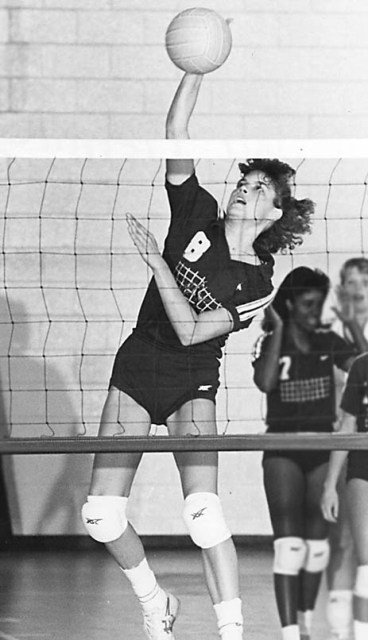 As a player, she excelled as Joy Fleming. As a coach, she has been busy churning out an exceptional career as Joy Stewart. No matter the name, the young lady has made her mark in the field of volleyball in brilliant fashion.


While a student-athlete at Ambridge High, Joy was not only an exceptional volleyball player, but also starred in basketball and softball. She lettered nine times overall, three times in each sport. Five different times she earned All-Section honors in her high school career for her multi-talents, and as a senior was named Most Valuable Player in both volleyball and softball, and All-Section in all three sports.
But it was volleyball that provided her with a scholarship to Clemson. There she was a four-year starter at middle blocker, and definitely left her mark on the Tigers' record book.
Joy still holds the record there for Most Blocks Solo and Most Service Aces. Also, she ranks high in Most Blocked Assists (10th), Total Blocks (4th), and Aces per Set (2nd). Joy is a member of the exclusive All-Around Club, having reached benchmark figures of 500 kills, 100 digs, and 200 blocks over her amazing playing career. She was the first person in Clemson volleyball history to be named "ACC Player of the Week." As a senior, she ranked 13th in Blocks and 16th in Digs in the nation.
In 2000, Joy began her head coaching career. She led Liberty High School to four playoff appearances in four years, and in 2002 was named Coach of the Year. In 2004, Joy took over the reins of Daniel High School, where she still coaches. At Daniel, her teams have annually made the playoffs. In fact, her record with the Lions is an outstanding 200-29. She has helped several of her student-athletes achieve all-star honors, including having three named State Player of the Year. Joy has been named Coach of the Year three different times, and in 2009 was named the South Carolina Coach of the Year for leading Daniel to the state championship. She also coached in the state's all-star game that year.
In 2010, under her tutelage, Daniel won the Upper State Championship in South Carolina, and she was named the National Federation of High Schools Coach of the Year for the state.
Joy, who is a social worker for the school district, and her husband Joe are the parents of J.D., Cade, and Aren. The family resides in Central South Carolina, where Joy Fleming Stewart continues to grow her outstanding volleyball resume.