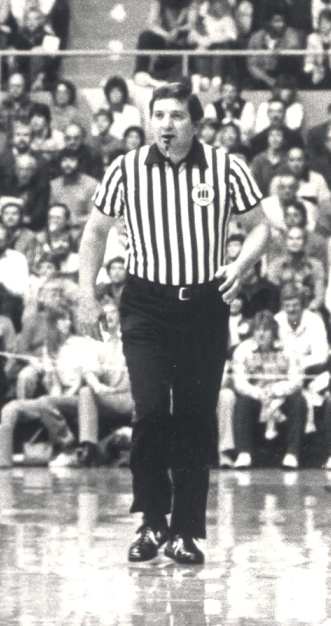 Billy Vinovich Jr. has officiated basketball, football, softball, and volleyball for 62 years, starting with intramural basketball as a Midland High School sophomore in 1952. Billy learned a lot by watching his dad, 1988 Beaver County Sports Hall of Famer William (Butch) Vinovich Sr., and his son, 2016 Hall of Famer Bill Vinovich III.
From 1971 to 1994, Billy refereed NCAA Division I Basketball in the PAC 8/10, Big West, Big Sky, and West Coast Conferences, making 11 appearances each in the NCAA and NAIA Tournaments. Billy refereed the Big West and Big Sky Tournaments from 1980 to 1990, the AAU National Tournament from 1983 to 1987, the Armed Forces Basketball Championships from 1981 to 1987, the Olympic Trials in 1982, and the World Games in Denmark in 1985. Billy was also the director for two basketball officials' camps at the University of Nevada and Pacific University from 1980 to 1992. Billy was offered an invitation to conduct basketball clinics and referee games in Serbia in 1993, but declined on the advice of the U.S. State Department because of the war there.
Billy refereed NCAA Division I Football in the Big West Conference from 1986 to 2000 and the Great Plains Athletic Conference in Nebraska from 2006 to 2012, and he worked three bowl games.
Billy umpired NCAA Division I Softball in the PAC-10, Big West, Mountain West, Big Ten, Mid-American, and Iowa Intercollegiate Athletic Conferences from 1990 to 2012. Billy also umpired the NAIA World Series in Alabama in 2001, and he made 10 appearances each in the NCAA and NAIA Tournaments from 1993 to 2002. Billy was the first Assigner of Softball Umpires for the Big West Conference from 1998 to 2004, and he assigned umpires for 49 additional Southern California colleges from 1989 to 2005.
Billy officiated volleyball in PAVO and the NCAA from 2000 to 2015 and is currently a USA Junior National Referee, officiating USA Volleyball Regional and National Tournaments across the United States.
Billy retired in 1993 as a Watch Commander after 33 years in law enforcement. Billy and his wife Linda have been married for 57 years and have had four children—Bill III, Shelly, Deanna (deceased), and April—four grandchildren, and a new great-grandson.