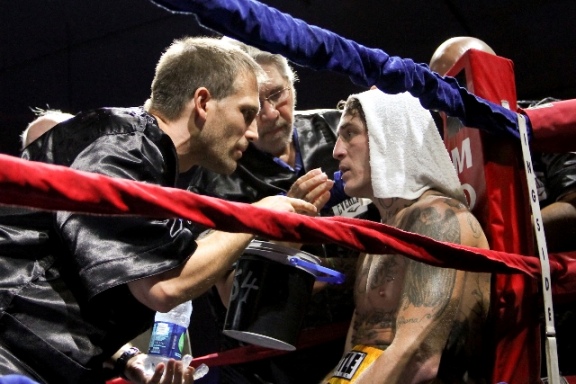 Like many young men, Tom Yankello started boxing after receiving a pair of boxing gloves as a gift at the age of five. Boxing was in Tom's bloodstream, however. Tom's uncle, Mike Yankello, was a Naval Boxing Champion and Tom's grandfather, Charles Vallecorsa, was an amateur boxer. Tom fell in love with the sport watching the movie "Rocky", viewing boxing events with his family, hearing stories of how his Uncle and Grandfather boxed, and from his father creating a ring in his basement, which is where Tom spent most of his childhood past time.
Tom was a talented boxer in the amateur ranks, working under area boxing trainers such as Jerry Magio, Ray Palladini, and Beaver County Hall-of-Famer Carmie Price. Tom was marred by shoulder and elbow injuries that resulted in four surgeries and kept him from his dream of turning professional.
In 1991 Tom began managing and training amateur and professional fighters, first at the Beaver County Boxing Club and then later at Tom Yankello's World Class Boxing Gym. Tom, along with his Father, Tom Sr., created a top boxing establishment catering to both amateurs and professionals. For nearly a quarter-century now, Tom has established himself as one of the premier trainers in boxing. Among his career highlights is training the legendary Roy Jones Jr., widely recognized as one of the all-time greats, including being named "Fighter of the Decade" for the 1990's. From 2011-2013 the duo went undefeated over this period as Jones captured the UBO Inter-Continental Cruiserweight Title. Tom also trained Paul Spadafora, the first major world champion from Pittsburgh since Billy Conn in 1941, holding the IBF Title from 1999 to 2003. In 1999, Spadafora overcame 5-to-1 odds to thoroughly dominate heavy favorite Pito Cardona to win the IBF world title, earning him ESPN Fighter of the Year.
Tom also shepherded the careers of notable fighters Calvin Brock, Brian Minto, Monty Meza-Clay and Aliquippa's Verquan Kimbrough. Other champion fighters in Tom's stable include Teddy "Two Gun" Reid, Andres "Taylor Made" Taylor, "Big Chief" Morgan Fitch, Jesse Lubash, Danny "Bhoy" O'Connor, Jaque "Lights Out" Lutz, Ed Latimore, "Lightning" Rod Salka, "Lightning" Manard Reed, Jacy Kuhn, Abraham "The African Assassin" Okine, Scott McCracken, Mike "Steel City" Strauss, Jimmy Lubash. In 1995, Tom began Stay Off the Streets, Inc., a non-profit program whose aim is to rescue forgotten children from the dangers of the streets, troubled homes, and negative role models. For years, Tom's Stay Off the Streets Program has served as a sanctuary of opportunity that equips our youth with the tools necessary to survive, not only in the boxing ring, but in real life.
Yankello's Gym is a growing family, where children are instilled with discipline, self-esteem, work ethic, and the competitive spirit necessary to succeed in all walks of life. Tom turns under privileged children into responsible young men that become active members of the community, and in some cases, World Champions.
Born in Aliquippa, Tom is the son of Thomas Sr. and Linda Yankello. Tom is married to Tina and they just had their first child, Thomas Taddeo, who was born on Yankello's birthday. Tom was a 1989 graduate of Beaver Area High School where he played basketball and track.