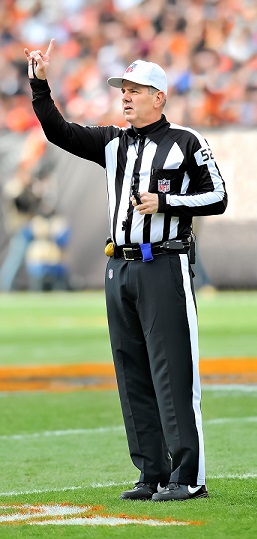 Bill Vinovich has continued a legacy of sports officiating started by his grandfather, William (Butch) Vinovich, who officiated multiple sports throughout Western Pennsylvania, Ohio, and West Virginia for over 40 years. Butch was inducted into the Beaver County Sports Hall of Fame in 1988. That tradition was furthered by Bill's father, William (Billy) Vinovich Jr., who officiated multiple sports in Pennsylvania, California, and, currently, Iowa. Billy officiated NCAA Division I basketball in California for over 20 years in the five major western conferences.

Young Bill, who moved from Midland at an early age with his family to California, played football through four years of college, transitioning to officiating upon his magna cum laude graduation in 1983 from the University of San Diego with a bachelor's degree in business administration with an emphasis in accounting. While pursuing a full-time career as a certified public accountant at the international accounting firm KPMG, Bill began officiating high school football and basketball.

After several years of high school and small college officiating, Bill was hired by the Canadian Football League in 1994. He worked in the CFL for five years and was privileged to work the playoffs in each of those five years. During his time with the CFL, he also officiated in the Arena Football League from 1995, culminating with Arena Bowl XIV in 2000.

After three years of officiating NCAA Division I football in the Mountain West Conference, Bill was hired by the National Football League in 2001. Bill started his NFL career as a side judge, working the AFC Championship Game after his second season. Bill was promoted to referee in 2004, and worked as a referee until 2007, working playoff games in 2004 and 2007.

In April, 2007, Bill suffered a descending aortic dissection which took him off the field and into the League Office as Western Regional Supervisor for four years. After successful open-heart surgery, Bill was cleared to return to the field in 2012.

In 2013, Bill worked the Baltimore at Denver Divisional Playoff Game, which went into overtime and was the fourth-longest game in NFL history. Bill also worked playoff games in 2014 and 2015, culminating with Super Bowl XLIX in 2015.

Bill has worked NCAA Division I basketball from 1992 to present, including ten consecutive appearances in the NCAA Tournament from 1998 to 2007.

Bill has two adult children, Shawna and William IV.